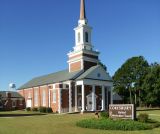 Welcome to Our Church
People come to a church website to find out something about the people of a congregation, their personalities, their values, their style of worship, or their beliefs. Perhaps they feel a need that only God can meet, and they need to find out if they can speak to God in this place and among these people. They wonder whether they will see a smile or a scowl if they appear there some Sunday morning. They are asking, How would I (or my family) fit in?
We hope that you will come to know us a little better as you look at these pages. We hope you will discover our love for all people. Above all, we hope you will see the difference our Christian faith is making in our lives. It isn't just information we offer but a passion for Jesus Christ.
We at Cokesbury United Methodist Church are trying our best to walk with Jesus as he builds a world more wonderful than we can ever imagine. We'd love to walk with you as we journey in faith toward that life abundant he promises.