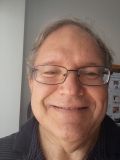 Since my wife and I have only been at Cokesbury UMC for three months, we can remember quite clearly our first impressions. The people are friendly and very laid back. They are easy to talk to and sometimes difficult to stop talking to. They are intelligent and well-informed about the world, the community, and the church. They have a small town attitude about people they don't know. They want to know where you're from, who your people are, what you do for a living, and "tell me about your children (or grandchildren if you are lucky enough) and then I'll tell you about mine." The church is very important to them. For many, it is the center of their lives, though food and family rate awfully high. Just mention BBQ or family style dinner or covered dish meals at church. They will be glad to tell you about some great restaurants thenewspapers don't know about, and you'll be forever glad you listened.
Being myself a product of rural NC, I must tell you something about myself. I was born in Shelby NC and raised in the country in the largely unknown community of Beams Mill. As a child, I lived next to the cemetery which was next to the Baptist Church. I went off to Duke University for college, then to Southern Baptist Theological Seminary in Louisville, KY, where I met my future wife, Alice Anne, who was studying to get a degree in Religious Education and Social Work. She graduated before I did. We got married and returned to NC where I attended Duke Divinity School. Within a year we had become Methodists and in 1980 I took my first appointment in a three church charge in Newton Grove.
Why did I become a United Methodist? Mostly because of my experience of God's grace. For Baptists it seemed that God's grace was limited to the cross, but for John Wesley and Methodists grace seemed like a reality that existed everywhere, all the time. My call to ministry grew out of a profound sense of being accepted by God. This led to a sense of gratitude that eventually led me to pastoral ministry. I have since grown less critical of Baptists and more critical of Methodists, but in the end we are united by the Holy Spirit and all of our failings in ministry only teach us more about the love of Christ and the call of God to love the world on his behalf.
I have been a pastor for 35 years. My wife has been a Social Worker and later a School Guidance Counselor, with a period in between working for Hospice. We have three grown children, two girls and a boy, all of whom are public school teachers, and three grand-children who are all girls and the most beautiful, brilliant trio of joyful Christians in the world.
I have a lot more to tell about myself, but I will wait until we meet. In the meantime, may God bless you and yours and may you find the sort of blessing at Cokesbury UMC that my wife and I have.
God bless you,
Pastor Mike Elliott